Bundled Digital Marketing Services
We are an SEO and Paid Ads Services Provider that generates long-term search indexing. Our proven methods get results. Contact us for more information.
Top Digital Marketing Services
You've probably heard that you need to be doing SEO, SEM, and social media, but it's hard to know where to start and who to trust. We know it can feel impossible to figure out how to improve your website's search engine ranking, get more leads from your paid search campaigns, or grow your social media following. And if you're like most business owners, you don't have time for trial and error.
We are your Marketing Team in a Box
VonClaro is here to help, with the right expertise, resources and tools to create an effective strategy that is tailored to meet your needs. Our experienced team of consultants understand the latest strategies surrounding SEM, SEO and social media, so you can trust we will deliver great results. Together we will craft a custom approach designed specifically for your business objectives.
We turn complex marketing into a simple, streamlined experience. Our comprehensive solutions give businesses the tools they need to make an impact and see results quickly.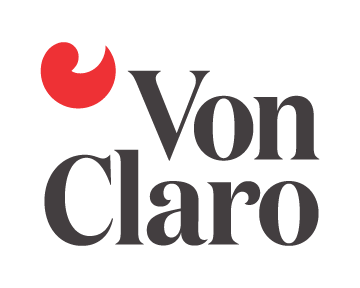 Reach More Customers
You will be able to reach more customers and make better decisions about how best to promote your products or services online.
VonClaro's world class team, lead by Rob T. Case, offer packages for clients of most sizes. We put our clients first by providing top-notch service at competitive prices. Get in touch to learn more.
Free Consultation
Give us a call, or send us a message, and set up a free consultation to discuss your current efforts, and we will be happy to find the right solution with you. Our team works locally, nationally and globally, so no matter where you are located, we are here to help.
Bundled Packages Include
VCI – Team Standard SEO + Baseline SEO Progress Reporting
Rob and his team strive to maximize your business' success on the web. Regular meetings guarantee everyone stays aligned in pursuit of a shared goal.
Keep your finger on the pulse of SEO success with our specialized tracking portal, offering continual insights into results from any implemented improvements.
VCI Team – Standard SEO + Offsite SEO & task progress & monitoring
Take your website to the next level with our backlinking outreach services! Our advanced content inclusion strategies – specially designed for improved visibility, ranking and conversions on search engines – will revolutionize how your business appears online.
Rob's team won't settle for anything less than total transparency. With a tailored Jira solution, they've connected the dots between their external resources and internal ones so that there is constant visibility into how SEO performance can be improved!
VCI Team Standard SEO + Paid Search/Social Management
Our comprehensive search engine optimization strategy combines targeted research, auditing and planning with paid ad campaigns to drive measurable results.
We provide reporting and tracking capabilities that allow us to optimize campaign performance while forging a direct relationship between you and our trusted service providers.
Standalone digital marketing services are also available, for Social Media Management, Paid Ads Management, Search Engine Optimization and SEO Web Development. Inquiry today for more details on plans and pricing.
Reviews & Frequent Questions
For most, digital marketing is a black box, but Rob and his team will demystify what is happening and guarantee measurable improvements in your digital strategy.
Setup a No Obligation Discovery Call
Let's setup a 15 minute no obligation discovery call and find out if we are a good fit. At the end of the call, we can decide next steps.