Online Reviews
According to a survey conducted by Brightlocal in 2016, "84% of people trust online reviews as much as a personal recommendation". This is understandable since online reviews are comparable to word-of-mouth recommendations by someone you know since they are previous clients who have already tried and tested the products and services that you want to purchase and avail.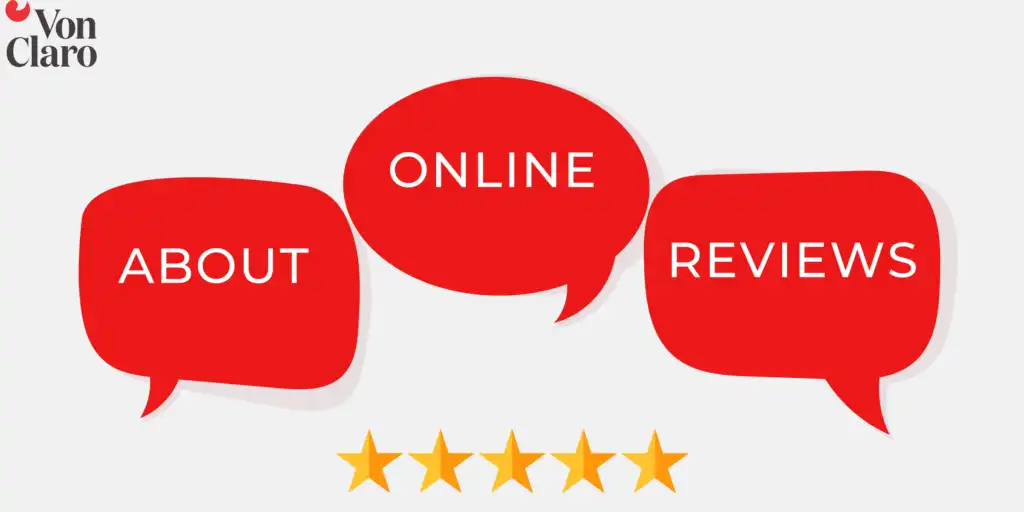 Online reviews are also an effective channel for digital marketing since they are economical (unless of course, you have resorted to paying customer to write a review for you), large scale (anyone who will visit your website or social media accounts will be able to read the reviews) and is a part of Off-Page SEO digital marketing strategy for your brand (if the reviews were written and published aside from your website).
This is probably not a surprise for many of us, but it does highlight why online reviews are possibly the most stressful thing business owners contact us about since there are some customers who are just disgruntled about trivial matters but retaliate by writing a negative review.
I don't believe it is a far stretch to assume most businesses are truly out to offer people something good in exchange for money, and I know some fantastic business people who are all about their customers…and they still get the occasional 1-star review.
For them it is heartbreaking that a customer left their business so unhappy that the customer felt the need to tell the world.
1-Star Review Types
Genuinely Unhappy Customer – This customer is a normally content individual who experienced an issue/concern and either did not get the assistance from the business they desired, or are too passive aggressive to confront the business staff face to face, so they use online reviews to express their discontent.
The "Hook Me Up Or Else" Customer – These customers are always contrary, never happy, and almost always looking to get hooked up with a credit/freebie/payout.
This pond scum uses the online reviews tools as a weapon, and if they do not get their way, they will (much like a child who wants the latest fidget spinner) throw a 'hissy fit' all over the reputation of a business.
I have no idea how these people sleep at night, and if you realize you are one of them, please slap yourself now before reading on. Thanks.
Dealing With Online Reviews
I have had at least 30 people call over the last 5 years asking how they can get reviews deleted.
Every single one of them was not happy when I told them the reviews are not erasable by anyone except the reviewer.
I know that the prospect of dealing with negative reviews is intimidating.
Most humans are not programmed to enjoy conflict (thankfully) and would rather avoid confronting someone on any topic.
With that said though, responding to online reviews is actually your opportunity to shine.
Oscar Wilde famously wrote "There is only one thing in life worse than being talked about, and that is not being talked about." This also applies to online reviews.
When dealing with an unhappy customer, respond promptly and sincerely. This will hopefully change their mind about their initial encounter with your company and if might be far-fetch that they will retract their initial review, you could use your response for your Off-Page SEO or for your social media marketing to show potential clients that you take into consideration and you listen to every review by your customers.
If applicable, offer assistance, express disappointment with their 'unhappiness' and let them know you would be happy to make things right.
One of my favorite examples of a business responding correctly to a customer online comes from JetBlue: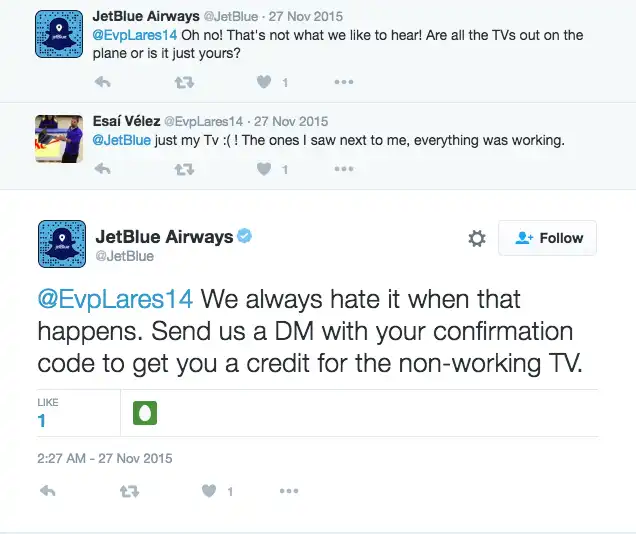 What is brilliant about this response is not only does it make the customer feel cared for, but it shows everyone else that JetBlue is an airline that takes care of its customers.
This very conversation actually convinced me to try flying with the company the next time I needed to travel which shows the effectiveness of including their responses to negative reviews to their social media marketing.
It is always unfortunate to have to issue a credit as well, but when done so like above, the PR is worth every cent and more.
Dealing with a "Hook Me Up" customer on the other hand can be very frustrating, and I personally encourage business owners to stand up for themselves. Here is a great example:
As you can see, this business owner took full advantage of this nasty review.
They pointed out their professionalism, their high standards of quality, and even a little sense of humor.
If you choose this approach, just be mindful to remain polite, do not call anyone 'names', and make sure you highlight your business in positive ways.
Responding To Happy Customers
When you are lucky enough to get the very coveted 5-star review from a client, reward them with praise too. Here is an excellent example:

As you can see, it's a happy party in all directions. 100% the best possible result.
If you are struggling to come up with nice things to say in return, may I offer you the following templates:
"It makes us very proud to have customers such as yourself happy with our service. Thank you."
"It is an honor to serve wonderful people like you. Thank you."
"We work very hard to make our customers happy, and feedback like this lets us know that our efforts are worthwhile. Thank you."
You are fully capable of coming up with better ones I am sure, but follow the theme at least.
Asking For Reviews
In an ideal world, a happy customer would take the time to hop online and give you a solid review for a job well done.
I personally do it all the time, but most people never even consider it. This is where you need to find ways to encourage them.
My favorite method is to just outright ask people if they could take a moment and leave a review.
Others prefer a less obvious approach, such as placing signs around their business directing customers to check out their social pages.
The bottom line though, is unless you find a way to encourage your customers to review your business, you will only get negative reviews…as angry people rarely forget to review.
The key to managing online reviews is being proactive and responsive. As a business owner, you should be monitoring your online presence regularly for any mentions of your company. If you see a review, good or bad, take the time to respond to it. Thank customers for their feedback, whether they had a positive or negative experience. If you handle online reviews correctly, they can actually help improve your business reputation and encourage more people to do business with you. At VonClaro, we have the experience and expertise to help you manage your online reviews effectively. We want to help you protect your hard-earned reputation and increase sales through effective digital marketing strategies. Send us an email now and we will assist you in managing your brand's online presence.