If you are on Facebook or Twitter, you have likely noticed a number of live videos popping up over the last year.
These can be focused on concerts, parties, travel and in many cases are used to simply say Hi to friends.
These are great ways people can use live streaming, but these free services also present an excellent opportunity to business owners who are looking to increase their online presence.
For those with limited digital marketing budgets, live streaming can actually be one of the most powerful promotional tools at your disposal.
Video content has always been a crucial component of any digital marketing strategy but live streaming gives businesses the opportunity to engage with their audiences in real time. This most recent advancement in social media marketing proves to be an effective channel for interesting and compelling content.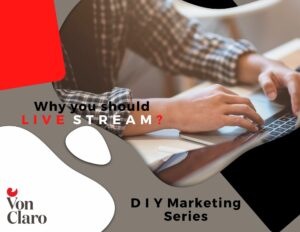 Why you should live stream
There are numerous advantages to opting to this type of social media marketing such as:
Affordability – Video advertising had the potential to be expensive in the past since you would need to invest time and effort to shoot the content and to have it edited to be watch worthy. There are times you would need the expertise of a digital marketing agency to do so (which is of course, a solid course of action especially if the video content is to be used for brand recognition and awareness).
Even if you would DIY the shoot, you would still need to purchase or rent production equipment such as camera lenses, lighting sets, other props for the shoot, paid actors, etc. You would not need to worry about all of this when it comes to livestreaming since they are not all necessary. With live streaming, the rawer the video is, the better.
Versatility – As mentioned above, viewers of live streams are not looking for video content that is similar to TV or movie productions. With this, live streaming is more versatile in providing appealing visuals and a compelling story. From interviews, to product demos and tutorials, to Q & As, the imagination of the live streamer is the only limit.
Pitfalls of live stream to avoid
There are drawbacks to live streaming as well but knowing about them beforehand could help you counter them.
Time consuming – Since more and more potential customers and clients are preferring visual content, live streamers must consistently and persistently work to continue creating content. So, if you would go the route of live streaming as part of your digital marketing strategy, think about if you have the time and resources to continue regularly generating live videos. You should also prepare beforehand to always have fresh and innovative concepts and themes for your videos.
Mixed results – Live streaming has generated a lot of hype but even if your videos generated a lot of views and other engagement, they might not be enough to attract the audience you are hoping for (aka possible customer and clients). So, you have to consider the very possibility that your live stream videos may attract viewers that might not be converted into paying customers.
Livestreaming Ideas
Congratulations! You have opted to include live stream videos in your digital marketing strategy. But you don't have any idea how to start. Continue reading for some ideas.
Events – If your company is hosting an event, or presenting at one, live streaming is an excellent option for expanding your audience, and spreading your brand's visibility. It also lends credibility since you are showing the event as it is happening.
Behind the Curtain – What is a day in your professional life like? Are there things you can show off that you believe potential/current customers would find interesting/appealing? Potential clients will appreciate the transparency and might help them decide that they want to conduct their business with you.
Q&A – Host a question-and-answer period. Give people a chance to ask for your expertise on a number of things, and further establish your brand as a helpful, knowledgeable option. It is an effective digital marketing strategy since your customer or client engagement is happening immediately, in real time. Live streaming also enables a more intimate relationship between the host and their audience.
Demo – One type of digital marketing content that is always generating engagement is tutorials or demos. There are people who are into DIYs and if they could do something by themselves first before hiring a professional, they would jump on that chance. With live streaming, you could show people how to use or do something. Teach them a new skill, or show them how your company can give them a solution especially if they are not into DIYs or would rather outsource the service that they need.
How To – Similar to Demo, putting on a How-To session with a live stream audience can be rewarding, and is a memorable engagement with potential clients.
Before you live stream
Prior to going live, make sure you plan out what you are doing. You want the presentation to flow smoothly, so if you need to have anything at hand, make sure it is. This will also keep your viewers' attention because there are less interruptions.
Then make sure you announce that you will be going live in advance of it by at least a couple of hours, so people have an opportunity to prepare themselves to catch it. Not all people are constantly glued to their phone and might miss the chance of seeing your live videos so informing them in advance is recommended.
If you can come up with a compelling descriptive intro for your stream, all the better.
If the first few times do not draw many people, do not get discouraged. If you are offering the public something they want, the public will ultimately come to you. It's going to be a trial-and-error process but once you get the hang of it and you find out what works, the succeeding videos will be easier to produce.
Live streaming is becoming more and more popular, so it's important to stay ahead of the curve by using this engaging and interactive medium in your marketing strategy. VonClaro can help you get started with live streaming or take your current campaign up a notch. Contact us today for a free consultation!