Google Data Studio
Data Studio is a tool that allows you to visualize your data. It is free of charge and provides access to additional attribution models.
If you're not familiar with Google Data Studio, it's a free data visualization tool that allows you to create beautiful, interactive dashboards. You can connect to various data sources, including Google Sheets, BigQuery, and even Google Analytics, and then visualize that data in multiple ways.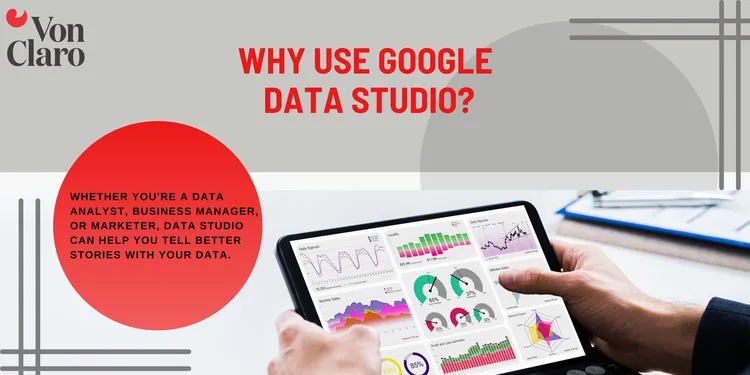 The best part about Google Data Studio is that it's very user-friendly – even if you're not a data expert, you can still create stunning dashboards. However, if you are a data expert, there are plenty of options and features that will allow you to really customize your dashboards and get the most out of the tool.
Overall, I would definitely recommend Google Data Studio as a tool for creating dashboards. It's easy to use, powerful, and free – what more could you ask for?
Like most Google tools, Data Studio can be hard to master, but it's well worth it. Once you've gotten comfortable with its features, you can use it to create stunning and informative reports for your clients, coworkers, or leadership team.
Data Studio is a powerful reporting tool, but it can be tricky to use if you're not familiar with its features. This guide will walk you through the basics so that you can get the most out of Data Studio and create informative reports for your clients or team.
With Data Studio, you can:
– Connect to data sources
– Create reports and dashboards
– Explore your data
– Share reports with others
Some of the benefits of using Data Studio include being able to better understand your data, make more informed decisions, and improve your overall marketing efforts.
Additionally, creating Data Studio report can save you time and money by providing a way to quickly and easily visualize your data.
Creating a Data Studio report is a data-driven story that can be used to persuade, provide insights, validate decisions, or argue for a change of course. Good reports help you find actionable information quickly and easily. When creating a Data Studio report you can customize it to focus on specific data sets and goals, making them a valuable tool for decision-makers of all kinds.
When creating a Data Studio report, you'll start by adding a data source. Data Studio offers many built-in connectors for popular data sources, or you can use the Supermetrics connector to connect to almost any data source.
Google Data Studio templates are a great way to get started with your data analysis. All you need is a data source and a few minutes to set up your account. Templates come in two forms:
those based on a shared data source
those based on a data control placed on the template.
If the template is based on a shared data source, you may want to replace that with your own data source. Data controls let you select the data set you want to use in a report.
Once you have selected your data source, you can begin modifying the template to fit your needs. You can change the colours, fonts, and layout of the report, as well as add or remove data fields. After you have made your changes, you can save the report and share it with others.
Once your data is connected, you can add charts, tables, and filters to visualize and interact with your data in meaningful ways. You can also customize the look and feel of your report to match your brand or style. Reports can be shared with others for collaboration, or published publicly for anyone to see.
Whether you're a data analyst, business manager, or marketer, creating a Data Studio report can help you tell better stories with your data.
Did you enjoy this blog? Check out our blog on How to use Google Spreadsheet Functions.